$50K in Revenue Earned by Buckeye Talk
Challenge
Cleveland.com sports columnist Doug Lesmerises and Ohio State beat writers Stephen Means and Nathan Baird, hosts of the popular Cleveland.com podcast 'Buckeye Talk,' wanted to find a way to bridge the conversation with their audience between their podcast episodes and to create an exclusive community for their most loyal fans.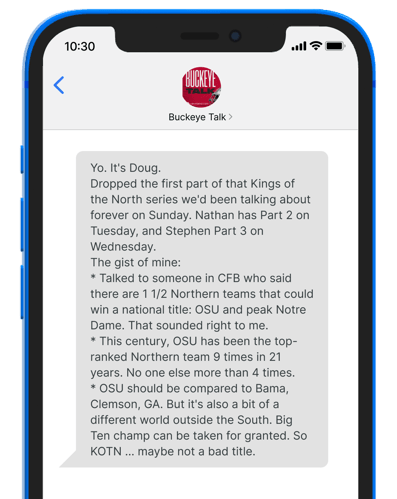 Solution
The team launched a paid Subtext campaign called "Buckeye Talk" to give their podcast listeners unprecedented access to their team of Buckeye experts. At $3.99/mo, subscribers are the first to receive breaking news, get daily analysis, can exclusively ask questions answered via text and on the podcast, and receive subscriber-only content and access to virtual events.
To build the community, the hosts mention the campaign multiple times throughout the podcast, reading the campaign phone number and listing the benefits of the subscription - which includes a two-week free trial. The team is transparent in letting listeners know subscribing is the best way to support Ohio State reporting at Cleveland.com. Outside of their podcast, the team consistently shares their campaign signup number and screenshots of their favorite subscriber conversations across their social profiles.
Results
Launching in early 2019, the Buckeye Talk campaign has continued to see subscriber numbers increase MoM. Even while sports we're halted due to the COVID-19 pandemic, Buckeye Talk was seeing 10% MoM subscriber growth.